Reality Hacking: Finding Flow in Times of Change
Event information

| | |
| --- | --- |
| Start: | |
| End: | |
| Venue: | Zoom (go.fiu.edu/realityhacking) |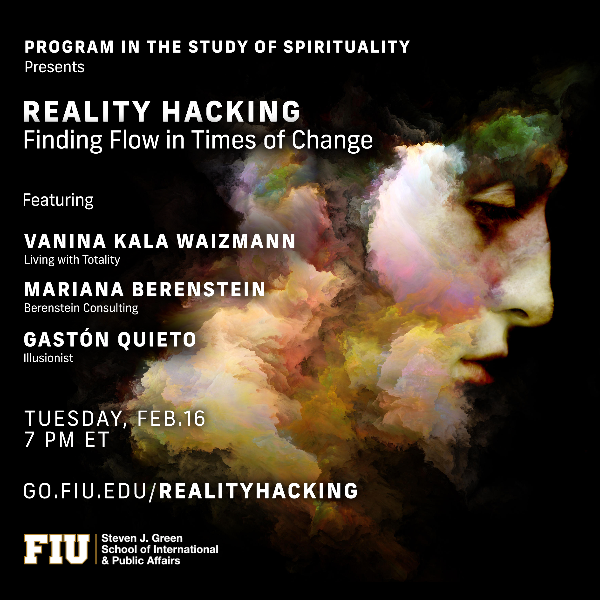 The year 2020 forced many of us to deal with our deepest wounds, fears, isolation and uncertainty, among other formidable challenges. Some went down the rabbit hole, while others found resources and resilience and left the old skin behind. How is it that we lose our flow and how can we get it back?
The first step is to better understand the nature of "reality." We begin with an experience of magic with renowned award-winning illusionist and Guinness world record holder Gastón Quieto, who will take us through an experiential exercise to help us better understand what "reality" is in fact.
We will then talk about uncertainty and flow from a psychological perspective and scientific point of view, as well as explore Buddhist approaches to these concepts.
Finally, we will end with some tools to build a personal roadmap to help us anchor flow in our bodies in the present moment, experience the inner self, and find contentment even in the midst of uncertainty.
Join the Green School for this dynamic and interactive presentation with Vanina Kala Waizmann and Mariana Berenstein, and special guest Gastón Quieto.
Presented by the Program in the Study of Spirituality, in collaboration with the Ruth K. and Shepard Broad Distinguished Lecture Series and the Contemplative Practices in Education Initiative
Guest Speakers
Vanina Kala Waizmann, PhD., MS, Spec., holds a Doctor of Psychology and is a specialist in individual and group psychotherapy. She also holds a Master of Science degree in non-profit management. Supported by her own spiritual journey, she has spent the last 17 years researching, teaching, leading seminars, counseling people worldwide and supporting individuals in the areas of consciousness, meditation and wellness. She is the founder and director of Living with Totality.
Mariana Berenstein, PhD, MBA, is a consultant and investor for deep tech industry, with more than 15 years of experience in research and management level positions in both public and private companies. She has been a Buddhist meditator for 20 years and a yoga practitioner. As a chronic disease patient, she researched a functional-integrative medicine approach herself and is currently working on projects combining science and spirituality for wellness and health. She is the founder and Director of Berenstein Consulting.
Special Guest
Gastón Quieto, Illusionist
Moderator
Erin Weston, Director, Program in the Study of Spirituality; Assistant Teaching Professor, Department of Religious Studies