Hortensia Nuñez, PhD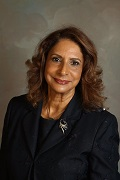 Dr. Hortensia Nunez is a founding board member of the Program in the Study of Spirituality. Dr. Nunez is presently an adjunct professor of Psychology within the Humanities and Fine Arts Division of Florida National University. Dr. Nunez is the founder and principal of Quantum Professional Group International, a consulting firm for individuals and private organizations to achieve their goals. Equally important, Dr. Nunez is a reviewer for the Council on Accreditation (COA). Dr. Nunez has dedicated the last six (6) years of her professional career to combatting violence against human with emphasis on domestic violence, sexual violence and human trafficking. Four (4) of those six (6) years, Dr. Nunez was a Miami-Dade County employee, and then became a consultant offering guidance and direction to the Violence Prevention and Intervention Division of the Community Action and Human Services Department. In 2013, Dr. Nunez was elected the Co-Chair of the Latino Alliance Against Domestic Violence, a working group dedicated to eradicating violence within the Latino community. Also of significance is her involvement in teaching the Court Orientation Workshop offered by the Coordinated Victims Assistance Center where Dr. Nunez works directly with victims of violence to prepare them to successfully face the challenges of the court system.

Dr. Hortensia Nunez retired from Miami Dade County after 25 years in public service as a clinical psychologist. During those years, she worked at the Office of Criminal Justice Council, Office of Youth and Family Development, Office of Rehabilitative Service and the Violence Intervention and Prevention Service of the Department of Human Services.

Dr. Nunez was born in Dominican Republic and raised in Puerto Rico. She earned a Ph.D. in Clinical Psychology from Centro Caribeño de Estudios Postgraduados. Before moving to Miami in 1985, she worked for the Commonwealth of Puerto Rico, University of Puerto Rico, and College of Allied Professions. Dr. Nunez was also a professor at the Miami Institute of Psychology today Carlos Albizu University and also a licensed practitioner of Science of Mind as a student of Ernest Holmes School of Thoughts.